I was thrilled when I got to work and was informed that the Holly beads had come back in as I had two of the Secret Santa ornaments waiting for finishing. So I got busy and got the next two Santa's done. Holly Santa and Deer Santa now join the pack of finished Santas. Two more to go and I'll have caught up. Can't wait...
I can't seem to get away from the Turkey Work beards, however, Deer Santa's does incorporate grey and I've made the beard longer by not trimming it so much. I deed pull out the red beads to use on the garland on Deer Santa but then decided to make a Smyrna Stitch with metallic braid on the Holly Santa. Again I satin stitched a nose on the Deer Santa and I made eyes on the deer using 1 over 1. After finishing so many of these banner pieces I have to admit I don't dread the finishing like I do most finishing and cording has become easier as well. On the Hands-on Design website Cathy has a tutorial on finishing for anyone that needs it., that is very helpful.
I worked with our Kathy and she was working on the Celebrate Summer tray from Madame Chantilly,
another favorite designer of mine. Kathie stitched Celebrate the 4th of July earlier and it was so cute. She then mentioned they also had a Halloween tray, a Christmas tray, and an Easter tray. So. of course,. I've pulled them out and now I want to get at least Halloween and Christmas done before each holiday takes place. So my stitching lineup changes once again. I love Halloween stitching, although I'm currently working on Hands-on Design Boo Banner, I'm going to have to start stitching faster because I really want to get this one done as well.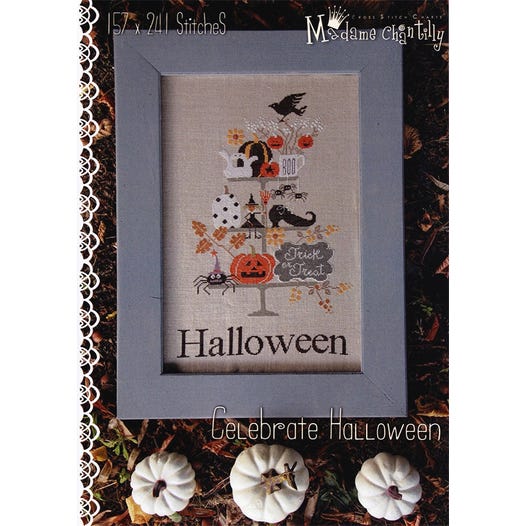 I've already started Christmas stitching with the Secret Santa banner so I have plenty of time to add this project to my line-up. I'm still trying to decide on fabric count. But I have time to mull that over as well.
And the Easter Celebration will be in the line up for 2021. This series would be great for displays because you could create a finish where you just flip them out using the same frame.
I finally decided I had to make a move on finishing the Blackbird Design out of their Sewing Club booklet called "My Home Scissor Box." It's been stitched for a couple of weeks, but it was the painting of the box that stopped me from finishing. Didn't have the paint they listed so I decided to come up with a plan using what I had. At first, I was going to do the box a blue, but as I surveyed my options in the house I saw a few issues for me, so then I thought about trying to match the color of the urn holding the flowers. I had a golden color that was too bright but I had a couple of browns, so in the end, I combined the Gold with Khaki and I think it turned out just fine. Of course, I also considered Black which is usually my go-to because everything pops, but wanted to step out of my usual box and try something different. Then I needed something to wrap around the design. I had a Storm Blue Ric Rac by Lady Dot that matched pretty good, but just in case I also made a blue cording. While I liked both, the ric rac won my overall vote. Before I go any further I should add here that in the book, this is done over 1 on 28 ct. Veldt PTP linen. But when I asked for the box, Sara handed me the box you see here. This is actually used for the Ripe Pear scissor box in " the same book and it measures 4" x 6 1/2". The matchbox design calls for a box that measures 4" x 2 1/2". So while it took me a couple of minutes to realize this wouldn't work for me on 28 ct., even if I did it over 2, I switched to 32 ct. over 2 and used PTP Doubloon, and it fits perfectly. I did have to make a change because the date of 2020 too up more space than 2019 and it came too close to the motifs that were there, so I put my initials in the spaces and moved one of the motifs where the initial was suppose to be. And now it can hold a whole lot more than just the scissors, like a needlebook, scissor and fob, and a small pin cushion. That's always a good thing, right?
So now it's back to the Secret Santa Series and the Boo Banner Series. But I've got plenty more in the lineup so I should be busy for several months.
I hope you are all well, getting lots of stitching done and I hope to see you soon.